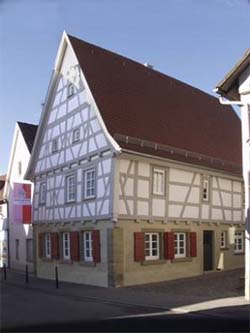 Aschingerhaus
75038 Oberderdingen
Telefon: 07045/202650
Fax: 07045/202652
E-Mail: Aschingerhaus@Oberderdingen.net


August Aschinger, Oberderdingen's first honorary citizen, bequeathed the municipality of Oberderdingen the house of his birth as a sign of his bond to the town.
As part of a renovation programme, the small half-timbered house, which is about 250 years old and subject to a preservation order, was given a new future-oriented use. Today, it houses the museum and gallery.