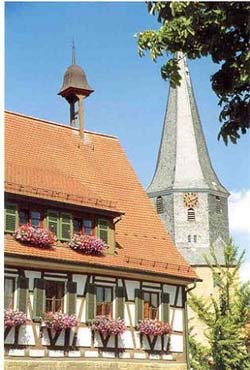 No matter how you get to Oberderdingen, be it on foot, by bike, car or railway – the gentle landscape will put you in a sunny mood. In all regions where wine is grown, the joie de vivre and culture are especially distinct – the same applies in Oberderdingen.
Despite all idylls – reality does not have to suffer: Oberderdingen offers everything that you need to live - a historical town heart with friendly businesses, public houses and hotels invite you to enjoy and linger; modern sports centres and two open-air swimming pools offer attractive active free time fun. Culture and education are incredibly important.
Use the following pages to find out more about the structure, history and districts of Flehingen and Großvillars.
Our virtual tour offers you a panorama of the most beautiful places in Oberderdingen.