The community of Oberderdingen developed through the annexation of Flehingen and allocation of the whole Großvillars, which had been divided between Derdingen and Knittlingen since 1866. In the integration treaty, the creation of a new community coat of arms was agreed. The submitted coat of arms is a modified version of what was previously the Oberderdingen community coat of arms, which was created around 1930 and has now been updated for the new community of Oberderdingen through the reinterpretation of the rebast vine and the replacement of the cowl by the Flehinger/Sickinger globes. The new coat of arms, which was created in cooperation with the general state archive of Karlsruhe, is justified in its content and heraldically flawless.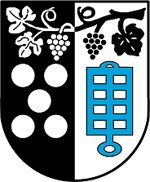 The three symbols on the coat of arms stand for the three districts. Oberderdingen, Flehingen and Großvillars.

The rebast vine on the upper third of the coat of arms symbolises, primarily, the Großvillars district, which is most heavily influenced by agriculture.

The five silver globes in black, lower left, are the joint coat of arms of the Lords of Flehingen and Sickingen. The five so-called snowballs formed the community coat of arms of Flehingen through to the annexation. As far back as 1936, Sickingen was incorporated into Flehingen.

The blue grill, which is below on the right on the coat of arms, represents the Oberderdingen Church Patron St. Laurentius and was also the old seal image and village emblem of Oberderdingen.

On 30th August 1982, the new Oberderdingen coat of arms was handed over by the then district administrator Dr. Ditteney with a heraldically precise description of the coat of arms. This read:

"In a split black and silver shield, on the top, there is a rebast vine with three leaves and two grapes in alternating colours, underneath five silver globes behind a blue grill."

From 30th August 1982, the newly conferred coat of arms became the public community coat of arms for Oberderdingen.