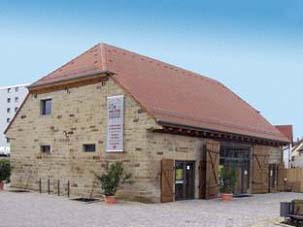 Wine Enjoyment, Culture, Art and Music - Unique in Kraichgau-Stromberg!

Situated in the centre of Kraichgau-Stromberg and easy to reach by public transport or car, this is the address where you can get good advice on all things concerning wine and tourist information!

From the idea of allocating the former Schafscheuer sheep barn from 1867 in urban development into an outstanding space, there arose the chance of renovating the listed building and revitalising it with a new function. With a Vinothek and Infothek combined under one roof, Schafscheuer has become an important point of contact in the historical town heart and the address for wine tourism in Oberderdingen.

What does the Vinothek Oberderdingen have to offer you?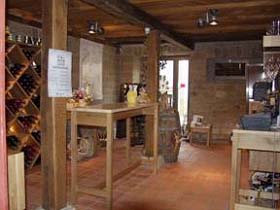 Vinothek and Wine Shop:

This is where the products of the local wine vineyards and wine cooperative are displayed and on sale. The range includes red, rosé and white wine, sparkling wines and various spirits. The motto is: "Try before you buy!" Every day, the team at the Vinothek offers several wines from its extensive range to sample. In addition, there are also high-quality accessories on the theme of wine, such as corkscrews, glasses, carafes, literature and other beautiful objects.

Infothek:

The tourist and town information centre is the central contact point of the community of Oberderdingen and supplements the range of information on offer. Here, you can find information and advice about tourism in Oberderdingen and the surrounding area. Whether it be accommodation, events, tours and hikes, the team in the information centre are happy to provide you with help and advice. As a special offer, you will find a ticket agency for cultural events and all sporting events in the whole of Germany in the information centre. To name but a few: you can get tickets here for VfB Stuttgart and KSC Karlsruhe Sport Club matches. You can also purchase tickets for pop, rock and classic concerts in Karlsruhe and Stuttgart.

Foyer:

The foyer leads the guests into both the Infothek and Vinothek. For private viewings, literary readings and musical evenings, this is the meeting place.

Lecture Theatre:

This is where issues surrounding wine tasting in the Vinothek take place. The room is also available for seminars, lectures, presentations and private events. There is enough room for up to fifty people.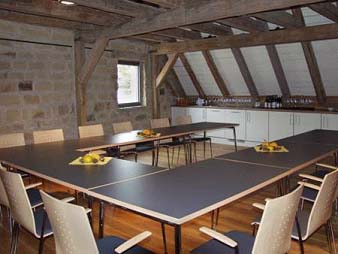 Reading Corner:

A place to dream, relax, read, study, enjoy wine or talk.

Vine-Covered Arbour:

An ideal location for groups. In the open air under the vines, you can enjoy all the Vinothek has to offer. Be it works outings, cycle tours, bus trips or other groups - simply book. The team at the Vinothek will cater for individual requests.

You will find more detailed information about the premises and the offerings of the Vinothek Oberderdingen together with its online shop here: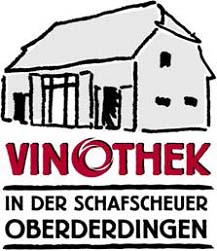 Address:
Vinothek & Infothek in der Schafscheuer
Heinfelser Platz 3
75038 Oberderdingen

Vinothek
Contact: Frau Häffele
Telephone 07045/202766
Fax 07045/202767
Email: vinothek@oberderdingen.net

Infothek - Information Centre
Contact: Ms. Zengerle
Tel. 07045/202768
Fax 07045/202767
Email:touristikinfo@oberderdingen.net

Opening Times:
Monday to Saturday: 9.30 - 12.30
Tuesday to Friday: 15.00 - 18.00
Sundays and Bank Holidays: 14.00 - 17.00