It has been here to admire since 1993, at the entrance to the town, as you arrive from Bretten, situated in a sunny position between Schillerstraße and the open-air swimming pool: the Oberderdingen Rose Garden.
The idea for this rose garden comes from Karl Hetzel, one of just four rose breeders in the whole of Germany. Since 1976 until shortly before his death in May 2003, he bred roses in his hometown of Oberderdingen not far from the Rose Garden.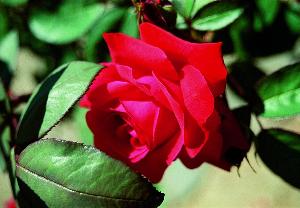 He brought over 70 varieties to the market and repeatedly enhanced his reputation with new breeds in international awards. For Oberderdingen, he created the rose "Derdinger Sommer" and for our Austrian partner municipality, the rose "Heinfels". The rose "Derdinger Sommer" is a pink, slightly fragranced, ever-blooming and very resistant miniature shrub rose. The rose was launched and baptised on the occasion of the partnership with Heinfels on 27th April 1995 with glacier water from the East Tyrol municipality.
The Oberderdingen rose breeder also loved to reminisce on the launch of the "Kronprinzessin Viktoria" which he carried out in 1986 on behalf of Queen Silvia in the Swedish town of Göteborg. In the same year, the first rose resistant to mildew, the "Super Excelsa" launched as a world sensation.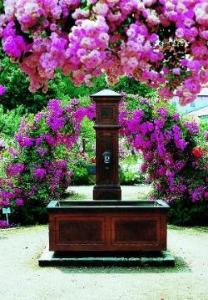 About 800 roses in about 60 different varieties now spread their scent across the garden, as dwarf roses, polyantha roses, floribunda roses, climbing and ground cover roses. Rose fans keep coming here from afar to marvel at the flowerage in the Rose Garden.

The rose breeder handed over his business of rose reproduction and sales to the Hofmann farming family in the immediate neighbourhood years ago. Here, roses are sold from the middle of October and after the winter, from the middle of March. During the summer, potted roses are sold. As well as his specialist lectures about roses, Mr. Hofmann also offers his visitors a brief guided tour through the historic Amthof, depending on the time.